With an already established reputation for giving drivers the best all-terrain capabilities and 4x4 handling found on the market today, plus soon-to-offer best-in-class midsize truck towing and payload weights, is there anything Jeep can't do?  You heard right, folks, the Jeep Gladiator is making its return to the Jeep lineup after 26 years in production hiatus! Jeep enthusiasts have been wishing for years, hoping that Jeep will announce a modern take on this classic fan-favorite, and just in time for the season of giving, Jeep has finally happily complied.  The All-New 2020 Jeep Gladiator was announced at November 2018's Los Angeles Auto Show, and is scheduled to start appearing in inventories across the nation by second-quarter 2019!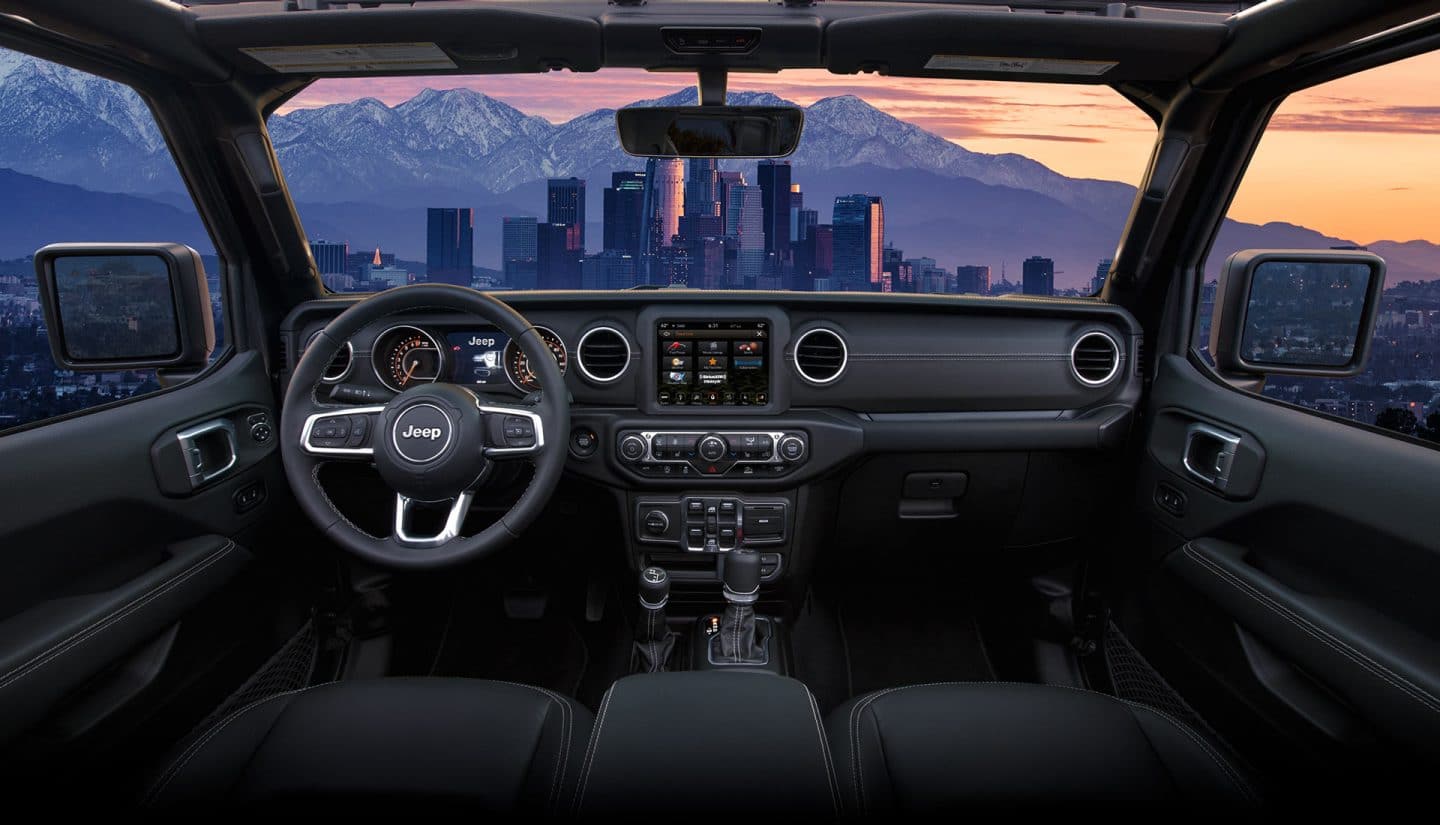 Engineered from the ground up, the Gladiator may look like a lengthy Wrangler, but rest assured it is its very own build and frame design.  Still, it retains qualities that are uniquely and distinctly Jeep. It's the first and only open-air truck, featuring hinging windshield, removable soft- or hardtop, and removable light-weight aluminum doors.  The Gladiator is slightly wider than the Wrangler to accommodate a larger signature seven-slot grille designed for better tow-supporting air intake. This is framed by Jeep's iconic round headlamps and wide trapezoid fender flares.  It rides on retro-style 17-inch wheels equipped with 33-inch all-terrain or mud-terrain wheels. In the back, the Gladiator still has the army-canister inspired square taillights beside the dampened tailgate. The five-foot long truck bed comes equipped with roll-up cover, LED lighting, and integrated tie-downs to secure all your gear or payloads through any bumpy ride.  
Under the hood, the 2020 Gladiator is debuting with two powertrain choices.  For its gas option, the standard 3.6-liter Pentastar V6 has been renowned and celebrated for its fantastic reliability and power output.  This engine outputs 285 horsepower and 260 lb-ft of torque through a standard six-speed manual transmission. An eight-speed automatic is available throughout the gas-powered models, and comes standard with vehicles equipped with the next powertrain.  The 3.0-liter EcoDiesel V6 carries you, passengers, and best-in-class tow and payloads forward with 260 horsepower and 442 lb-ft of torque. The Gladiator can capably handle up to 7,650 pounds of trailer weight and up to 1,600 pounds in its bed. Both engines come with standard Engine Stop-Start technology, pausing engine activity while the vehicle is at a full stop to conserve fuel consumption.  Smoother, low-friction pistons, bearings, and improved combustion system with fine tuned fuel pressure sensors make this vehicle both capable and fuel efficient!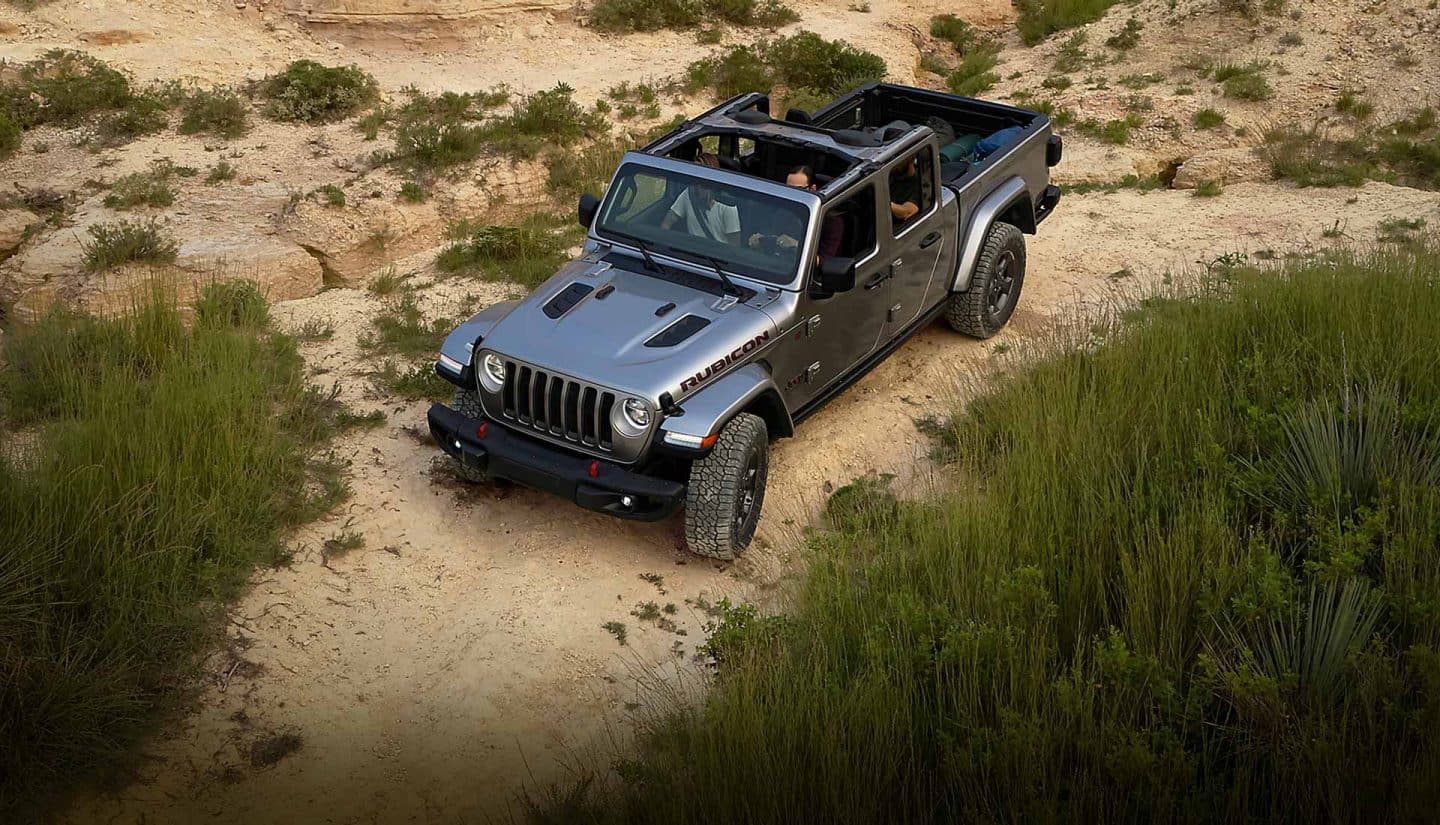 You have the choice of two of Jeep's famed 4x4 drive systems.  First comes within the Sport, Sport S, and Overland trims. The Command-Trac System features a 2.7:1 low-range gear ratio while the Rubicon-exclusive Rock-Trac System runs with a "4LO" ratio of 4:1 and Jeep's locking rear differential.  Both come with heavy-duty third-generation Dana 44 axles equipped front and rear, as well as segment-exclusive electronic sway-bar disconnect for the best articulation and suspension level of any midsize truck. The six-speed manual gives you a 84:1 crawl ratio, while the eight-speed automatic can move forward with a crawl ratio of 77:1.  No matter which trim model you choose, the Gladiator can waterford up depths up to 30 inches. When compared to the Wrangler, the 2020 Gladiator is 31 inches longer with a wheelbase that is 19 inches longer. This greater number improves the bed's center of gravity for better weight distribution and more comfortable ride. It certainly doesn't sacrifice on the Gladiator's climbing capabilities, however.  Managing approach angles of 43 degrees, breakover angles of 20 degrees, and departure angles of 26 degrees, the Gladiator retains is amazing off-road navigation thanks to its 11 inch ground clearance.
News coming out of LA's auto show is promising big performance and a supremely fun ride in the all-new 2020 Jeep Gladiator.  Buhler CDJR is staying up to date with the latest and greatest of this vehicle's news coverage. We'll happily answer any question you have about the new Gladiator.  Stay updated yourself as soon as news hits thanks to Jeep's official Gladiator announcement page. Find these vehicles in our inventory by mid-2019!